Terna
An immersive platform to communicate sustainability
Client benefit
- Traffic on the company's corporate website
- SEO
- Brand awareness
An immersive multisensory platform to communicate the works and projects of Terna, Europe's largest independent electricity transmission operator.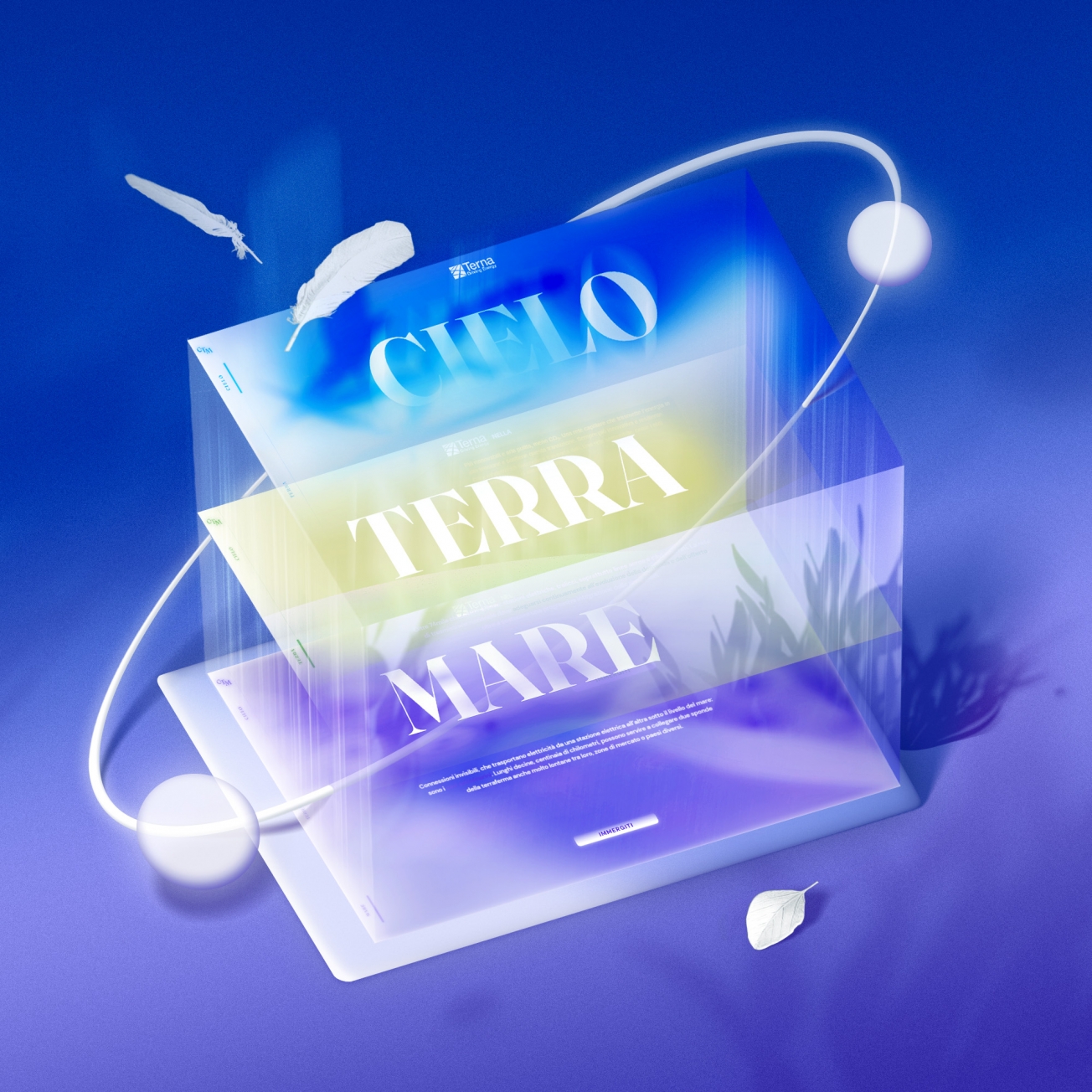 An ecosystem of works and projects


Divided over three main environments, Cielo, Terra, Mare is a full digital experience that guides visitors in an immersive journey.
This digital ecosystem is an example of an innovative approach to communicating corporate sustainability: with a strong storytelling component, 3D animations and ambient sounds, visitors are guided through the data and information, highlighting Terna's strategic role in building a more sustainable future.
Thanks to the different areas of expertise in our network, we developed this project in its entirety and in close collaboration with Dalk, a spin-off of The Visual Agency dedicated to the production of data-driven editorial content.
In particular, we have developed:
Design concept;
content and copy;
web development.
An immersive journey


With an innovative user experience, the website becomes a truly immersive journey where stories and projects are revealed to the audience through the movement of clickable orbits around 3D photorealistic graphics, each representing the three main areas of Terna's intervention.
This all-around experience, complemented also with sounds, horizontal scrolling and an ad-hoc study of lights, was entirely developed in-house.
The digital itinerary

The website is divided over main three areas, or environments:
Cielo (air) includes projects, like Terna4Green, to consult data for statistics, analysis, process optimization and strategic development.
Terra (land) describes how Terna carries out works to support grid efficiency and development, with a particular eye for local areas and populations.
Mare (sea) features descriptions of Terna's subsea infrastructures, as Italy's position at the center of the Mediterranean gives the country a particularly strategic role.
Immersive, but also responsive

The three main environments of the website, represented by photorealistic 3D objects, are optimized to perform on any device, so that visitors can explore the content both on tablet or mobile.
Furthermore, the three-dimensional nature of the platform opens the potential for an additional level of immersion: in fact, the possibility of developing the website in VR, a technology that could play a key role in marketing and communication in the future, is being considered.
An effective tool for communication

Officially unveiled at the shareholders' meeting, the website has been republished by several specialized outlets. This, along with the innovative nature of the platform, has enabled Terna to reach a wider audience.
At the same time, with each section redirecting to in-depth insights on Terna's main website, it generates new traffic, boosting the company's online presence and SEO.